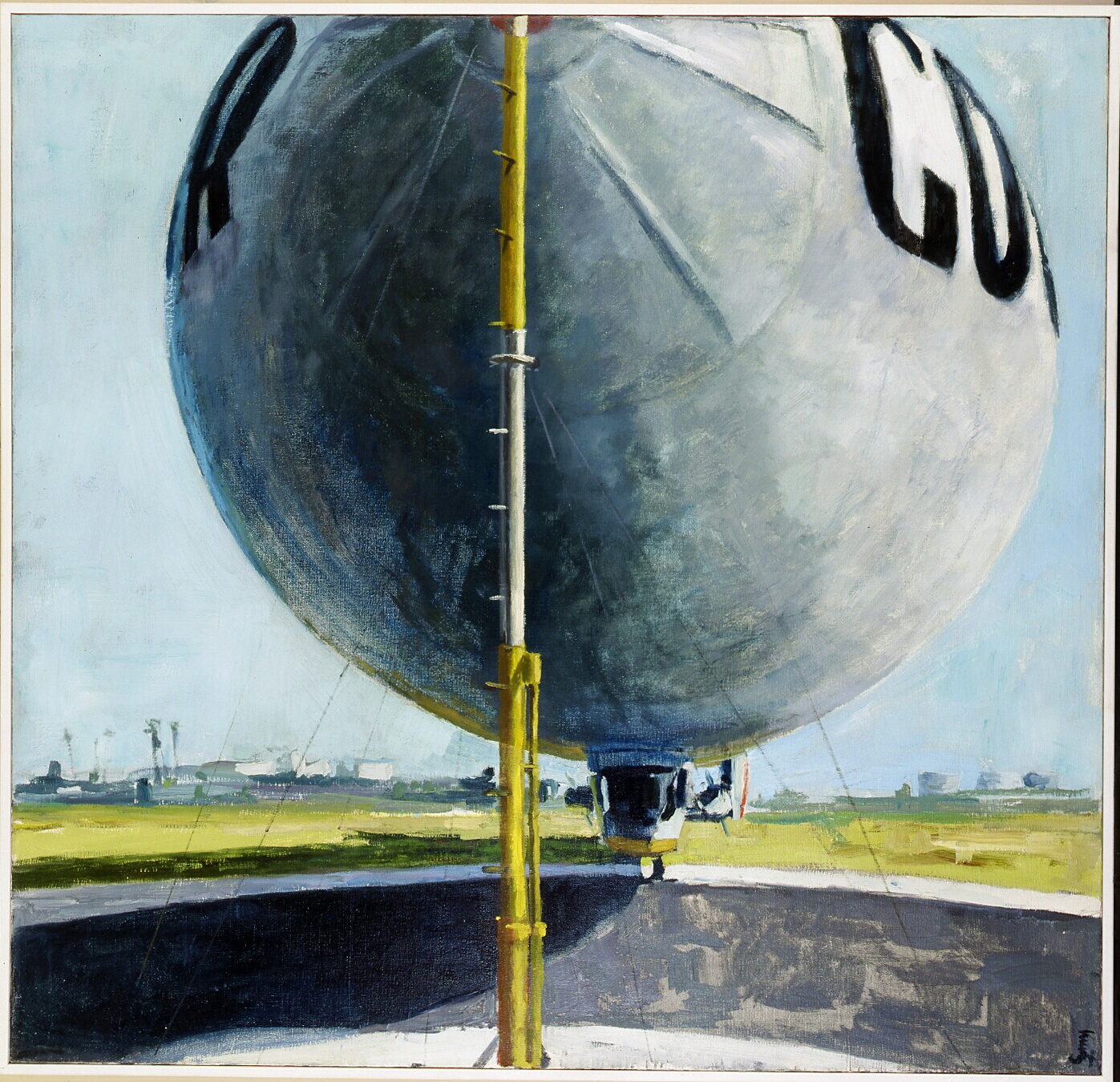 Oil on canvas, 46 x 48 in.
Most mid twentieth-century artists toyed with the new aesthetic of abstraction that arose in the 1940s. Many, who liked painting representational subject matter, applied abstract principles to 3-D objects, flattening them to 2-D shapes and bringing the scene to the surface of the painting. Artists like Kuntz resurrected all the methods that their predecessors in history had devised to bring realistic scenes up against the picture surface. These include observing the subject from a bird's-eye perspective, placing the subject on a shallow stage against a flat backdrop, surrounding the subject with stacked-up elements, and presenting the subject as emerging from a dense fog." Kuntz liked painting series of the same subject. For example, his Crystal Cove series focused on the architecture of his house there; the freeway series depicted overpasses and underpasses, signage and bridges; the bathtub series showed people bathing; and finally, Kuntz turned to depicting the Goodyear blimp (1968-1970). "Sometime before March of 1969, Kuntz was in Dana Point painting the geometric walls and columns of an unfinished and abandoned resort hotel when the Goodyear blimp floated by… the blimp had its start in Southern California in 1968 when the Goodyear Tire and Rubber Company first based the airship Columbia in Carson. Kuntz was struck by the formal contrast of its peculiar volume with the geometry of the 'ruins' of the hotel construction site. Kuntz photographed the blimp at the Carson airfield on two separate occasions, and over the next year he developed a series of some twenty-five paintings examining the blimp from various vantage points and in different guises." (from The Shadow Between Representation and Abstraction, Laguna Art Museum, 2009, p. 132.)
Provenance: Maureen Murphy Fine Arts, Santa Barbara, December 1990.; exhibitions and publications: reproduced in color Art of California, November 1990; exhibited The Shadow Between Representation and Abstraction: Roger Kuntz, Laguna Art Museum, March 15 - May 24, 2009, no. 123, reproduced in catalogue in color p. 129.