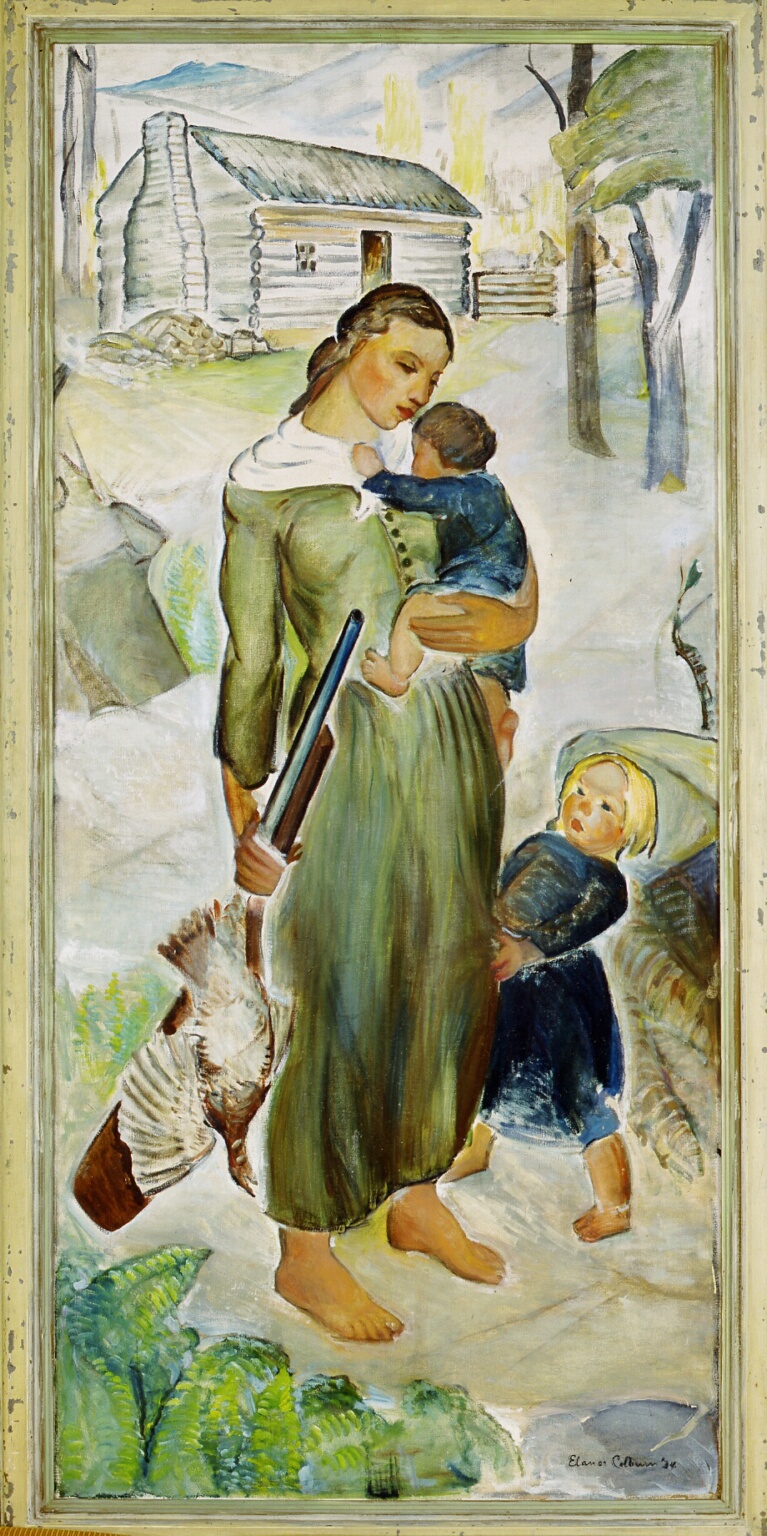 Oil on canvas, 70 x 32 in.
Elanor Colburn (born Eleanor Gump) studied in her native Ohio and at the Art Institute of Chicago where she later taught art and exhibited locally. She was twice married. Upon separation from her second husband, Joseph Colburn, she moved, in the early 1920s, to Laguna Beach, where she painted until her death. Her style was a loose post-Impressionism, and later a form of Dynamic Symmetry, which she utilized on mother/child themes with titles such as Primitive Mother or Pueblo Madonna. In 1934 she was commissioned by the WPA to paint a mural for the auditorium of Laguna's grammar school (SCN, March 23, 1934, p. 1, col. 6). This took the form of a three-panel mural, 6 x 10 feet, showing three moments in the life of Lincoln. Panel #1 showed Lincoln as a two-year-old child led by his mother with a tot in arms. The above painting is either a sketch for the mural or the mural cut up. Panel #2 showed Lincoln the rail splitter, and panel #3 showed Lincoln sitting on a bale of cotton and witnessing a slave auction (SCN, April 13, 1934, p. 13, col. 4). The completed mural was reproduced ("Background of Lincoln's Youth," SCN, April 19, 1938, p. 9) showing panel #1 in the center, panel #2 on the left, and panel #3 on the right. The three scenes were separated by painted tree trunks meant to symbolize the passage of time between the epochs. The wild animals -- in the mural but not in the above painting -- symbolized Lincoln's love and kindness toward timid things. Curiously, eight years later a mural "Background of Abe Lincoln's Youth" was given given by Colburn's daughter, Ruth Peabody, to Woodrow Wilson Jr. High School in San Diego, where it was displayed in the cafeteria (SCN, April 21, 1942, p. 2). Whether this is the same mural as was destined for the Laguna school is not currently known. Wilson, for a short period titled Wilson Academy of International Studies because the majority of its students were non-English speaking at home, is now called Woodrow Wilson Middle School and may not currently own the artwork.
Provenance: purchased Laguna Beach Museum of Art auction, May 18, 1986, no. 20; given to Museum by artist; Exhibitions and publications: exhibited Painting and Sculpture, Fifteenth Annual Exhibit, Los Angeles County Museum of History, Science and Art, May 4 – June 17, 1934, no. 21; Laguna Art Museum, member's exhibit, 1938; Laguna Art Museum, Regionalism into Modernism, 1993.